Protection Profiles¶
sensitivity.io Protection Profiles are a set of rules that you use to start the module job.
You can create your Custom Protection Profile inside your Control Panel Account
You can also select from already defined ones such as Predefined Profiles or Compliance Profiles that will deliver instant compliance to your application such as HIPAA, PCI*, GDPR etc.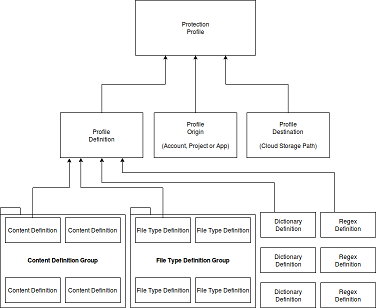 A protection profile represents the link between a profile definition and:
either a profile origin (account, project or app)
or a profile destination (i.e. cloud storage path).
A profile definition consists of:
predefined content definitions;
file type definitions;
dictionary definitions;
regex definitions.
The resulting collection, also known as configuration settings in the SDK, is used as an instruction set by the sensitivity.io SDK engine throught the Settings resource.
Important
All the settings in the Settings resource are validated by having that specific feature enabled and valid in your License.
Compose the Settings yourself by using the following options:
These settings apply to all sensitivity.io modules.
These settings apply to the Sensitive Data Scanning module.
These settings apply to the Sensitive Data Classification module.